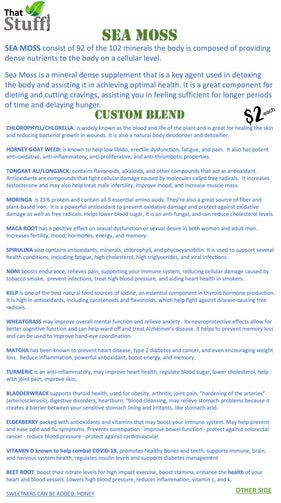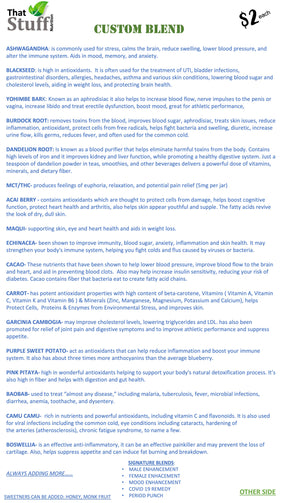 Sea Moss Custom
Sea Moss Custom
Regular price

Sale price

$48.00 USD
Are you interested in a custom blended sea moss? Look no further.  With over 30 different minerals you can create your own blend designed for all your needs.  View images to see what minerals we currently have to offer.  
If you do not see a mineral, ask if we carry it.  If we do not we can source it once we can validate its effectiveness.  email questions to info@synergynuvu.com.
Once you have selected the minerals you would like, send us an email at info@synergynuvu.com to have this created.  You will then be redirected to this page to pay for your custom blend. 
 Also, if you need a consultation for which minerals will work best for your needs  you can set that up with Corine directly at Corine@synergynuvu.com or send a text to 619.797.6888  
FAQ: 
Do I have to email what I want before choosing to pay?

Yes, everyone's needs are different.  In order to calculate your pricing we will first need to know what all you desire in your blend.
How much is it standard? All sea moss starts at $32 then each additional mineral is $2.  

What size is the sea moss?

All sizes start at 16oz.  If you want larger let us know.  32oz starts at $51.  Depending on the custom blend we can offer a 8oz which starts at $27.  However, typically the minerals add more volume to the blends.  However, email us what you like and we can go from there. 

Why is the price $0?

Because you must first email us your order specifications and then you will be redirected back to the site to place your order. 



How long does it take it receive?

We ship out Monday - Thursday and fedex overnight will be added to the cost. $12.13. and if you are local you can pick up typically same day depending on the time. We are closed on sundays. 
Location? 10315 W. Airport Blvd. Stafford, Tx 77477 Ste 8.  But we often have it available at other locations just depends. 



Does it need to be refrigerated? 

Yes and we typically ship frozen to preserve it. 

How long is it good for? 

30 days 8oz and 45 days 16oz

How much do I take daily? 

It is recommended once a day (1 tablespoon) but you can take up to 3 tablespoons a day. 



Is there a such thing as too much? 

Too much of anything is bad. So I would just stick to the 1-3 tablespoons a day. 

Is there a limit to how many minerals I add? 

No not typically. Keep in mind though, what your body doesn't use it will waste (poo or pee) so don't overload yourself only to literally poop your money down the drain lol 😂 

How to know if it is bad? 

You want to consume sea moss gel within 5 weeks of purchase. And freeze if not going to finish it. Recommendation  is to place it into cube trays in freezer so you can use a piece at a time.
Signs it's bad: It has changed colors. Organic sea moss gel will originally be a light tan/gray color, similar to oatmeal or sand. ...
The container smells bad. Sea moss gel shouldn't have a strong odor. ..
The gel is extra watery or slimy. ..
There's mold on the surface layer.
When should I take sea moss? 

There is no wrong or right time to take it. I personally, take it first thing in the morning right after I drink 6oz of water. Then I chase it with whatever. But generally after water on an empty stomach. This way it targets my blood stream faster and it fuels me all day on a cellular level. 



What can I blend it in? 

Honestly, anything I prefer nothing hot and to keep it in environments similar to how it grows. So cool to cold. I take mine straight to the head unless I drink a FUEL. But typically I do not blend it with anything but to start I would recommend adding it as the taste is strong. So like juice, smoothie etc…..
Couldn't load pickup availability