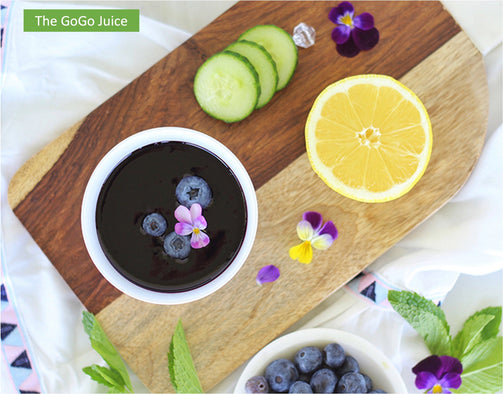 GoGo Juice
GoGo Juice
Regular price

Sale price

$12.00 USD
The GOGO Juice
Is our proprietary blend of magnesium rich herbs along with blueberry, lemon, cucumber, aloe, lemon, and alkaline water. 


This Gogo is meant to be taken once a quarter and not all the time as it is a true clean out. Optimal use is once every 6 months. If you find that you need to use more, it's best to reevaluate your diet. 


HOW IT WORKS
Drink the entire juice within 3 minutes and chase it with a bottle of alkaline water. The water does not need to be consumed fast however, should be the next drink you take to help balance out your system. WHY: The GoGo is very acidic so we need this water to balance out the body and neutralize it. 


After consumption, be around the toilet within 1-6 hours as a full release will happen. 


note: if you feel like you need to pass gas. Do not…. Get to the bathroom. :). 


AFTER THE GOGO:
We recommend you follow this with, at minimum, our 3 Day Fuel to help rehydrate and bring the right minerals back to your body. Or at least purchase the FUELs individually to make up about 4 Fuels per day. For at least 3 days following the GoGo. 
Drink plenty of water to keep the toxins flushing from your body. We prefer alkaline
Avoid gas-forming foods for 2 days.
Eat yogurt with acidophilus/bifidus cultures, also consume probiotic rich foods to maintain the balance of flora in the colon.

yogurt, sauerkraut, tempeh, kimchi, miso, kombucha, pickles

Eat more laxative food such as salads, vegetables, fruit (no bananas), juices, soups, fish, chicken. Beet and carrot juices are very beneficial. Avoid eating raw vegetables 4-6 hours after the GoGo.
Avoid heavy meat consumption (beef and pork) for 8 to 12 hours. Chicken, turkey, and fish are best.
Focus on foods with soluble fiber, like oatmeal. This will help the good bacteria in your intestines recover while building more solid stools.
email: Corine@synergynuvu.com for additional questions prior to purchase. 


WARNING: this product has not been identified with causing cramps however, everyone is different so be mindful. Also, we guarantee that you have a flush out if you drink the GoGo according to our recommendations. Also, we are not liable if you abuse the GoGo and take more than recommended.  Use this at your own risk and seek medical consult if you have severe symptoms. If you do not have a bowel release contact Corine.  Although no refunds will be issued she may be able to talk through what might have gone wrong and better explain what's going on. 
Couldn't load pickup availability