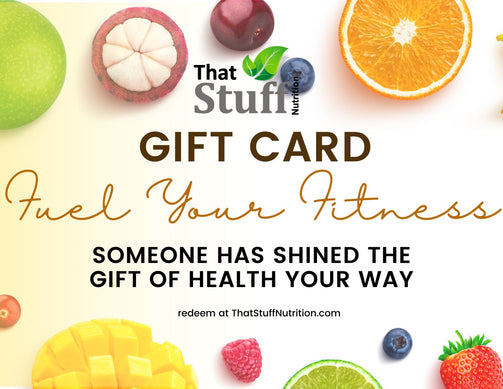 Gift Card
Gift Card
Regular price

Sale price

$10.00 USD
Give the gift of health to someone.  We offer a variety of options to choose from and you can custom purchase your amount by selecting a couple options for purchase.
There's nothing keeping you from celebrating those you ❤️. Show 'em you care with the new FUEL YOUR FITNESS eGift card or physical card redeemable at any of our locations or online! Just say when & they'll get it in seconds!
If your order is unique, You can email us the information after purchase info@synergynuvu.com.
What we need: 
Name
Cell phone or email
Amount
FAQ
Are these digital? You can choose between digital or physical. 
How can I adjust the amount? Example, say you want to offer $75. You will select $50 (add to cart) then select $25 (add to cart) place order. Make sure to include the persons name in the ship to so we can personalize their gift card. 
How can I purchase multiple at the same time? Right now it is best that you proceed with different transactions. Place your order for one, then place a separate order for the other persons. 
How are these given? If you select digital, after you place the person receiving the cards information in the ship to field, they will receive an email and text about their digital card with a unique discount code that they can use online or in store.  If you select physical, we will ship or have made available for pick up a physical card with a unique discount code that can be used at checkout either in store or online.  

 How to use digital:
After purchase, an email & text will be sent with the unique discount code to redeem the funds at checkout. 


If there will be delivery involved please ensure you add an additional $7.13 for shipping. 


When purchasing it is important to add the persons contact in the ship to field. This is how we know who it goes to. 


If purchasing multiple, it is easier to do separate transactions and add different names for the ship to. 


 How to use real cards:
You will receive a real card in the mail or made available for pick up with the unique discount code to use at checkout printed on it  
Simply gift the card, they will access the site, place their order, use their gift card discount code and their order will be delivered or made available for pick up.  If they are using in store, they will have a unique code to use at checkout  
any other questions contact info@synergynuvu.com before purchase. In the subject line place (gift card)
Couldn't load pickup availability