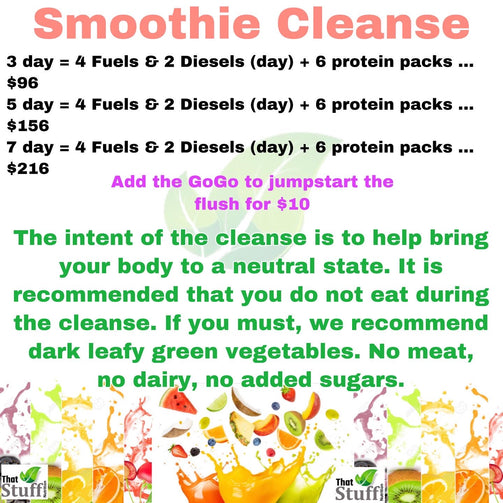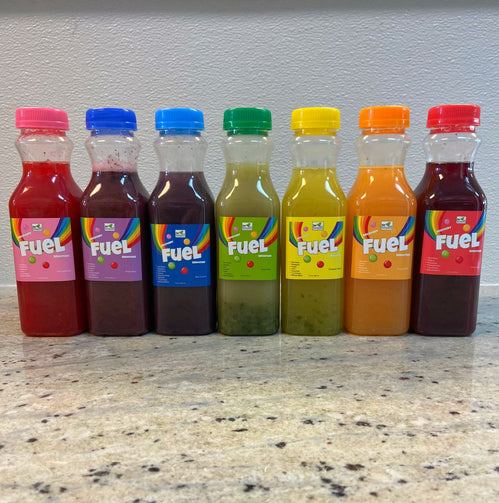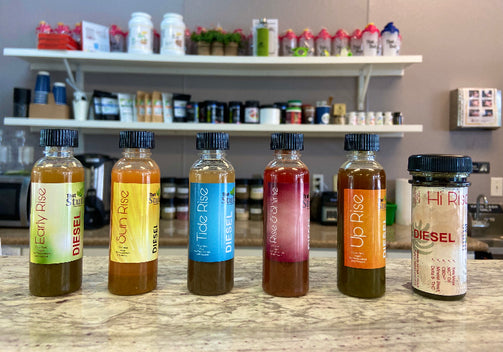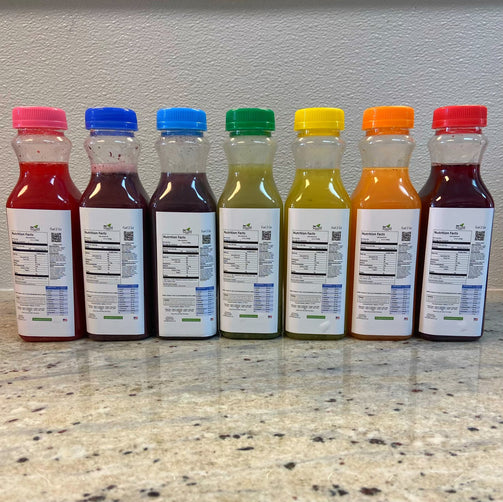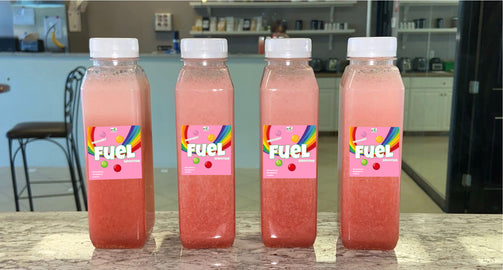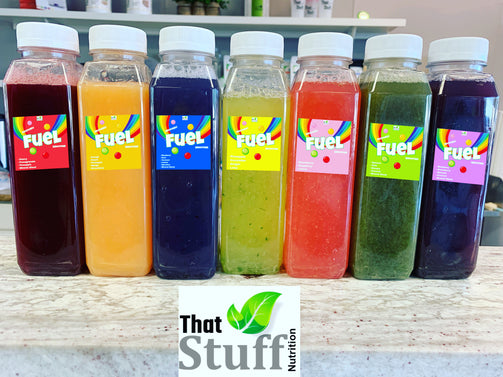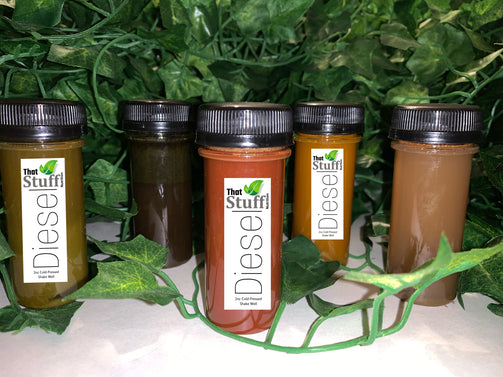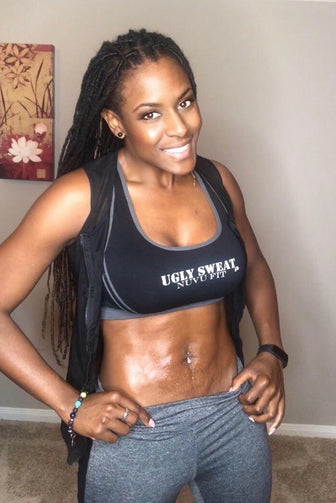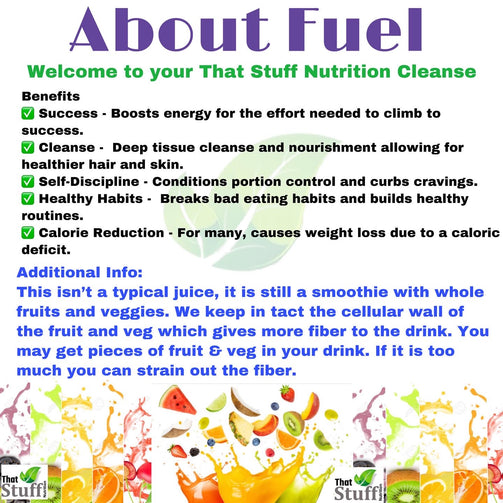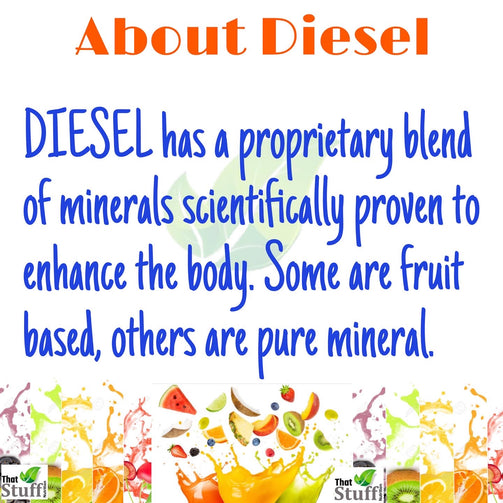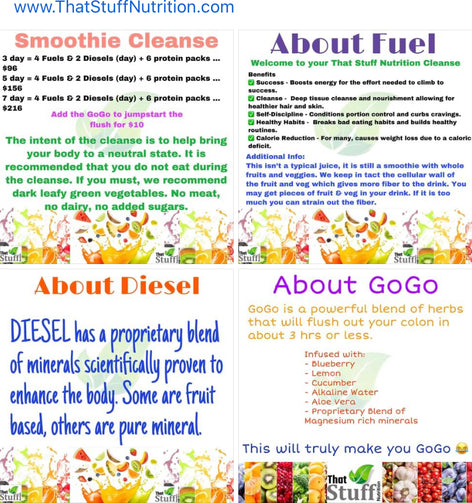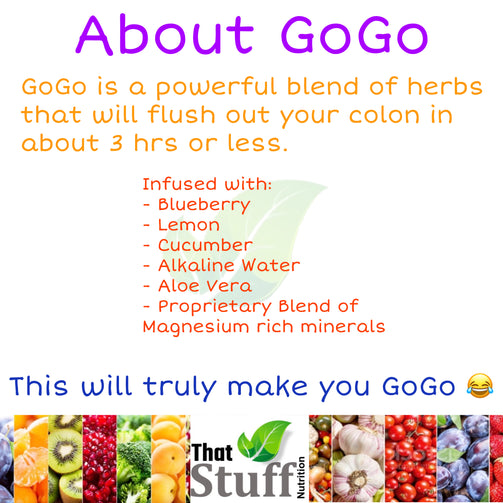 3,5,7 Day Cleanse
3,5,7 Day Cleanse
Regular price

Sale price

$96.00 USD
Looking to cleanse your system or jumpstart your weight management program? A Drink Cleanse from That Stuff Nutrition is a great way to accomplish this. 3 day/ 5 day/ 7 day options available.
—-> FUELs are our drinks but if you are looking for a raw juice look up HYBRID raw juice on our site <——
Our Fuel drink are packed with vitamins, minerals, aminos, electrolytes, and fiber.
We mix in our Diesel elixirs to provide the right amount of energy to help you push through the cleanse.
This package is an assortment of flavors. In which you will take 4 Fuels a day and 1 -2 Diesels a day.  
Pick up at one of our locations or have it shipped to your home.
Click here —->  HOW TO DO THE CLEANSE <——click here 
Here is what you may want to know about it...
Each day I will guide you on how to consume your fuels and diesels. The best course of action: drink plenty of water. If you need food simply add a protein pack to the Fuel, shake and enjoy. Follow it with water. Most of the time you will notice you are not hungry. It is the need to chew, so grab some sugar free gum and enjoy :) However, if you would like to order additional FUELS you can. 
What is the purpose of this cleanse: Reducing your weight, eliminating toxins, gaining your energy back, or simply resetting your body. While fruits and vegetables do provide important vitamins and nutrients, consuming only juice may not be as good for you as it sounds. Which is why I have created this smoothie cleanse. Not only do you get your fruits and vegetables you also receive an ample supply of nutrients to support the entire body function. Our FUELS are packed with aminos, electrolytes, fiber, minerals to support everyday life. Our FUELS will instantly boost your antioxidant, folate, vitamin C, vitamin E and beta carotene levels.
What makes this different from standard juicing?
Well there are a ton of things however, the most important that aids an athlete juicing alone, strips out the fiber from the fruits and vegetables during the juicing process. Many do not realize that fiber is important for 'feeding' the healthy bacteria in our gut — helping us feel full, keeping blood sugar from going up too quickly and preventing constipation.
Juicing alone causes undesirable side effects. The low calorie content of most juices can elicit fatigue, headaches, cravings and dizziness. With all of the nutrients we pack into our smoothies our customers report that they do not feel these effects.
Juicing may lead to muscle and bone loss. Because juice contains limited amount of protein, your muscles and bones can be affected. I custom formulate my protein and they are included in your package. Also, you will notice you will be able to consume some foods during this in which we focus on protein.
Overall, there is a science to this and the FUELS are designed to enhance your athletic potential from day 1.
FAQ: How often can I do this cleanse? Because we are eliminating food out of your diet completely it is safe to do this cleanse for 30 days straight. However, I encourage you that after 30 days you take a break for 36 days before continuing. You need to give your body a break and change it up from time to time.
Why 36? well you will have to wait for my new book (LL) to release to gain the complete reason, just know your body will thank me and most importantly your results will thank me. lol
Couldn't load pickup availability