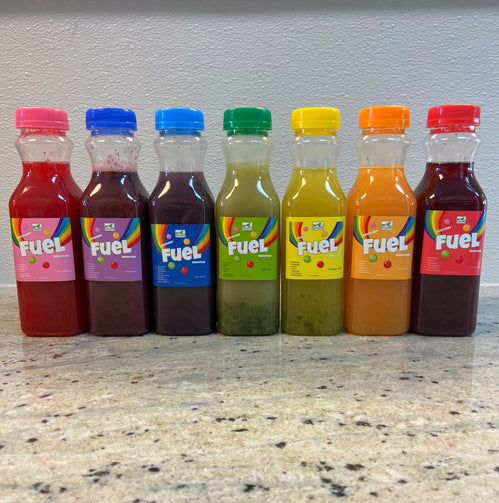 Red Cherry Pom (FUEL)
Red Cherry Pom (FUEL)
Regular price

Sale price

$8.75 USD
FUELS are delicious, fresh and hydrating drinks with a kick. Filled with nutritious ingredients, 11g of essential aminos, electrolytes, and fiber they are certain to provide your body with what it needs.
Although they appear as a Juice these FUELS contain whole fruits and vegetables that have not been juiced down and separated.  This beverage is a drink not to be confused with our HYBRID RAW JUICE. 
With 7 different flavors to choose from, our FUELS are designed to provide, Muscle Growth, Muscle Repair,  Hydration, Immunity, Detox, Anti-Inflammatory, Brain Support, Anti Oxidant, and Blood Sugar Control.
CHERRY POM contains:

Cherry
Pineapple
Pomegranate
Alkaline Water
11g Aminos
Mineral blend
ADD PROTEIN to any FUEL for additional benefits.  Our Whey Protein has 26g and our Vegan Protein has 16g (click links to learn more)
TO STORE

Drinks ship with ice packs, may thaw in transit
Upon arrival keep in the fridge 7 days or frozen for up to 4 weeks
Do not keep at room temp
For maximum freshness, Place in freezer upon arrival and take what you intend to drink the next day and place in refrigerator overnight to dethaw. 
OUR MINERAL BLEND contains:

Green Food Blend
Organic Wheat Grass, Organic Barley Grass, Organic Alfalfa Grass, Organic Spirulina, Organic Chlorella
Antioxidant Blend
Organic Rose Hips, Organic Carrot, Acerola Cherry Extract, Green Tea Leaf Extract, Organic Acai Berry, Organic Beet Root, Raspberry, Organic Maca Root
Fiber Blend
Organic Flax Seed, Apple Pectin
Digestive Enzyme & Active Culture
F.O.S. (Fructooligosaccharide), Amylase (Aspergillus oryzae), Protease (Aspergillus oryzae), Lipase (Aspergillus niger) Lactase (Aspergillus oryzae) Cellulase (Trichoderma reesei), Lactobacillus acidophilus
That Stuff Nutrition
Recupe BCAA 11g of Essential Amino Acids
ESSENTIAL AMINO PROFILE contains:

| | |
| --- | --- |
| AMINO PROFILE | Milligrams per cup |
| L- LEUCINE | 4028 mg |
| L- LYSINE | 888 mg |
| L- ARGINIE | 678 mg |
| L- VALINE | 1561 mg |
| L- ISOLEUCINE | 1491 mg |
| L- HISTDINE | 350 mg |
| L- THREONINE | 327 mg |
| L- METHIOINE | 280 mg |
| L- PHENYLALANINE | 257 mg |
| L- TRYPTOPHAN | 140 mg |
| L- GLUTAMINE | 1000 mg |
| B6 | 2.5 mg |
Couldn't load pickup availability